We're delighted to welcome Rose Shue back to Eclectic Music this summer as a camp leader. It's extra special to have Rose because not only is she a strong music educator and performer (now a rising senior at Furman University pursuing a bachelor's degree in music education), but she herself is an alumna of Eclectic Music--going back to her first piano lesson in 2005! It's a pleasure to have Rose, such a high achiever, creative spirit, and genuinely warm and kind human being, continue to be a part of the Eclectic Music community.
Casey von Neumann, founder of Eclectic Music, recently connected with Rose to share a conversation about life, music and summer camps.
with the Accademia Dell'Arte!
You've been very busy since last year's summer camp. What have you been up to?
It's been an exciting year! In the fall, I moved to Italy to live in a small Tuscan city for three months as a part of a study abroad program. During my time there, I worked with an amazing Italian voice teacher, performed in showcases and recitals, and traveled all over the country studying music and art history. I will be forever grateful for the opportunities I had to gain a deeper understanding of the ongoing musical tradition that has touched so many people through generations and across continents, and for the ways in which my experience challenged me to learn more about myself as a musician, teacher, and human being.
It was hard to leave Italy, but I had lots of wonderful things to return to at Furman. In the spring, I went on tour with Furman Singers, sang with the Chamber Choir and Chancel Choir, and studied solo voice and piano. I also served as President of Furman's chapter of the National Association for Music Education, a position that took me to several wonderful conferences where I worked with other educators to think about new, exciting ways to teach music. In addition, I was elected President of Furman's chapter of SAI, a professional music fraternity, and selected as the director of Furman's student-led choral ensemble, two roles I'm beyond thrilled to take on next year. In April, I was inducted into Pi Kappa Lambda, National Music Honor Society, and Kappa Delta Pi, International Honor Society in Education. It was a busy semester!
Any new ideas you want to try out this year at camp?
Yes! In February, I attended a conference on building musical literacy that got me thinking about the similarities between learning a language and learning music. We know so much about the ways that children learn to speak, read, and write English--why not apply those ideas to music? I'm excited to test out the connections at camp this summer.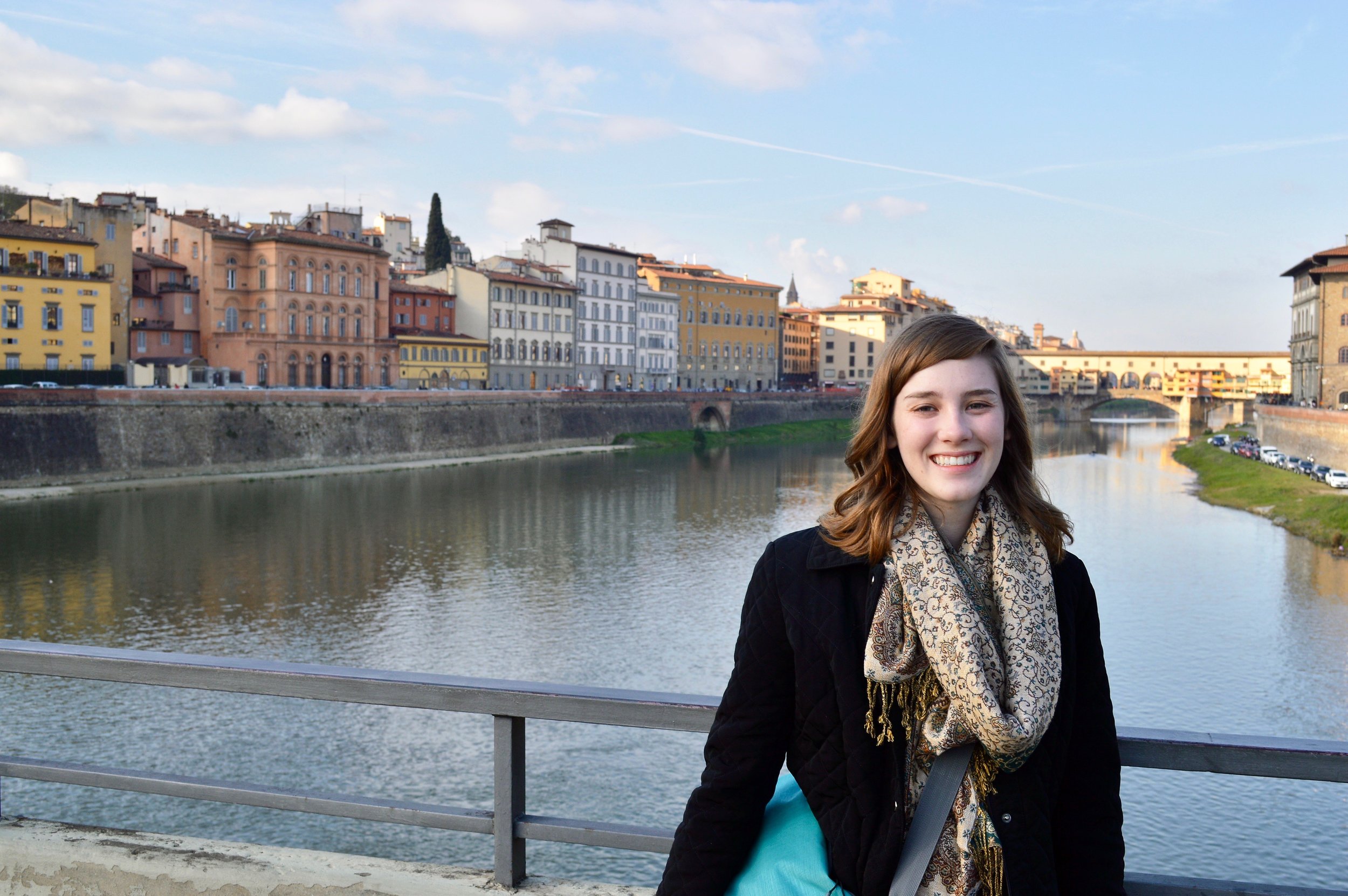 Rose (center) in an opera performance.
What inspired you to study music education? Is it as you expected?
One of my earliest memories is of standing in a parking garage stairwell with my grandmother and singing "Oh, What a Beautiful Morning" at the top of our lungs. I'm sure we were a strange sight, a beaming white-haired woman and tiny girl on the landing of a dirty staircase singing for all the world to hear, but we didn't care.
Even at four years old, I was enraptured by the magic of the joy in our voices. It was all around me. My mom sang as she cooked dinner, my dad danced with me as we listened to our favorite songs, and my whole family would join in singing folk songs together as we walked through our neighborhood after dinner.
As I grew older and wound my way through middle and high school, I took solace in the peace I found in music. I was changing, learning, growing—and yet music remained just as magical to me as it had been when I was a little girl. It was, and still is, intrinsically tied to my sense of self and sense of community, and that is an experience I wish every child could have.
From there, making the choice to study music education was easy. I knew how needed a teacher's guidance could be, believed in the power of music to bring people together, and felt I make some small difference in our world by sharing the joy that music had brought me with others.
I'm not sure I knew what to expect when I started college. Does any eighteen-year-old? What I found, though, was that I suddenly had endless opportunities to think, learn, and talk about something I had already developed a deep passion for: sharing music with children. While I've had my share of challenging courses and exhausting days, I've always said that I am incredibly lucky to get college credit for showing up and doing the things I love. For the most part, my days as a music education major are filled with making music, working with kids, and thinking about ways to do both of those things better. I definitely picked the right path for me--and it doesn't hurt that there's no math requirement!
You started music lessons a little later than some kids (age eight). Do you feel that was a help or hindrance? What advice would you give parents who are thinking about starting their kids in music lessons?
It's true that I didn't start formal lessons until I was eight, but music was a part of my life long before that. As I mentioned earlier, my childhood was filled with impromptu living room "concerts," pots-and-pans drumming sessions, and lots and lots of singing. Though my parents like to say that they have no idea where I got my affinity for music, I really believe that it was cultivated in those early years, when they chose to make space and time in the busyness of life for me to sing and dance and appreciate the sounds of the world. By the time I started lessons, I had developed a love for music that has endured to this day.
There's nothing inherently wrong with starting lessons at an earlier age. The problem, I think, is that all too often those lessons come at the expense of teaching children that music is a chore, not a joy; that music is that tedious half-hour each week when they have to sit still and will their pinky finger into moving independently when it's not yet ready to. To me, nothing is worth ruining a child's love for music. If that love translates into banging pots and pans together, great! If it's attending weekly sing-a-longs, great! If it's messing around on an old keyboard, great! If it's coming to summer camp at Eclectic Music--great!
So I guess my advice is to focus first on helping your child discover community and joy through music. Find programs and teachers who support that idea and who have thought carefully about age-appropriate teaching methods. Find a place where your child can experiment with making lots of different sounds with lots of different people. Find moments to mess around with homemade instruments or sing together. There will be plenty of time to learn scales and etudes later.
Rose with Eclectic Music director Casey von Neumann after an Eclectic Music recital back in 2007.
Performing at a student showcase in 2012.
I heartily agree. It breaks my heart when I see kids quit music because they started too early or were pushed too hard. What do you think helped you to stick with music all the way through to adulthood? What keeps you going now?
I was really lucky to have parents, teachers, and mentors who noticed the joy I found in music and chose to prioritize that joy over all else. There were times when I didn't feel like practicing, dragged my heels all the way into the recital hall, and threatened to quit altogether--but there was always someone there to offer a little perspective, to wade through my frustration, and to help me find a new path.
And yes, there were lots of new paths. When things weren't working, we backed up, found a different way, and continued on. Sometimes that meant starting from a different place in the piece. Sometimes it meant banging out chords to a Taylor Swift song instead of practicing that Mozart. Sometimes it meant switching instruments for a year or two. The adults in my life encouraged me to stick with music, but they wanted me to do so in a way that was fulfilling. They wanted me to remember that joy.
That is still true today, but now my support circle has expanded to include a whole new group of directors, peers, and professors. Nothing is fun all the time, and there will always be pieces I don't like playing and classes I don't like taking. At the end of the day, though, I do this because I love it, and I rely on those around me to help me remember that.
You've experienced Eclectic Music as a camper and as a camp leader! What do you think makes a good summer day camp?
My favorite camp memories center around things that may have seemed insignificant to the adults around me at the time: the excitement of songwriting during lunch with a newfound friend; the frustration and triumph of learning a G chord on the guitar; the predictable comfort of afternoon sing-alongs as we said goodbye for the day. As a camp leader, I try to remember the power of those simple moments and allow the space and structure for them to take place. Camp should be a place to explore old interests and discover new ones; a place to make friends and share music; a place to make mistakes and learn from them. More than anything, though, camp should be something kids look forward to. Having fun is important!
Performing opera in Italy in 2017.
Singing at Furman University.
What makes you most proud of the work you've done at Eclectic Music?
The first summer I taught by myself, I was put in charge of a camp called Glee Club. I came in one day with a brand-new song that I'd never used before, full of ideas for how to teach it on ukulele and piano and maybe even guitar. I had choreography, too, as a back-up, and twelve copies of the lyrics, and a fully color-coded chord sheet. I thought I was totally set.
As it turned out, the kids hated the song. The ukeles wouldn't stay in tune, and the piano part was too hard. The choreography looked silly. It was a disaster.
So I was surprised when one of my campers came in clutching a rolled up sheet of paper the next morning, proudly unveiling it in front of me so that I could see the scrawled letters: "I LOVE CAMP!!!"
I'm proud of that day because I had the sense to abandon my failed song and move on, because I recognized that making sure the kids had a good time was more important than my misplaced expectations, and because I knew how to plan a little better the next time around. I made a mistake, but I survived--and I learned a little something in the process.
Which camp are you most excited to lead this summer?
I'm excited about Kids in Charge because it's basically my childhood dream camp: the chance to get dressed up, learn a bunch of musical theater songs, and put on a real live show for a real live audience. Golly. I'm jealous on behalf of my seven-year-old self.
It's kind of a lofty idea, but what do you hope to contribute to the lives of the campers you see this summer? What do you want them to come away with?
My biggest hope is that kids will leave feeling excited about their ability to create music with others. Realistically, one week of camp is not going to turn an eight-year-old into a piano prodigy. It might teach her that her voice is worth sharing, that there's nothing better than working together with friends, and that this music thing is actually kinda fun.
Get to know Rose even more this Summer in her camps SURF'S UP and KIDS IN CHARGE!